Our Religious School strives to create a love of Jewish learning that begins as a journey in a child's earliest years. The goals of our Religious School are to have our children learn not only the facts and tangible subject matter, but also have the chance to explore values, identities and feelings. Learning is engaging, fun and meaningful with a staff of warm, dedicated and accomplished educators and volunteers. We combine the best of traditional teaching methods and innovative approaches to education. We strive to maintain a deep commitment to tradition while changing to meet the needs of our children and their families. Community is paramount to the existence of our Religious School; we therefore encourage and value family participation in our family celebrations and services. Come join us on your child's journey as they learn what it means to be Jewish!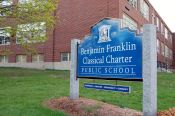 Religious School for Grades 2-7 meets on Sundays from 9:30am-12:00pm, September-May at the Saint Mary's School building at 201 Main St, Franklin (currently the Benjamin Franklin Charter School building). Kitah Gan Alef meets about 2 times a month at the Temple building.
The world stands on three things: on Torah, on sacred service (Avodah-worship), and on acts of loving kindness (G'milut Chassadim).
Pirke Avot 1:2
At Temple Etz Chaim, our school strives to ensure that these three core components are integrated into all of our programs.  The students participate in an age appropriate T'fillah (worship/prayer) service on Sunday mornings, which provides them with an opportunity to use the prayers they have been learning in their classrooms as well as a chance to discuss the portion of the week with Rabbi Alpert.
Hebrew School meets on Wednesdays from 4-5:30 pm. The Hebrew curriculum, which encompasses grades 3-6, teaches and helps our students develop Hebrew-language skills through classroom instruction and activities and weekly T'fillah on Sundays. Students learn to read and write Hebrew, and study basic Hebrew grammar and the concept of roots and related vocabulary. They learn the meaning of key prayers in the Friday evening and Shabbat morning services, and to read and chant these prayers. Our program is designed to provide our students all the necessary skills needed to participate and lead us in worship.
Project Based Learning
Our School has been moving in the direction of Project Based Learning (PBL), which will be more fully implemented this coming school year. In use throughout the United States in general education, PBL has found its way into Jewish education as well. PBL involves more hands-on activities and individual/group research that helps the student be an active learner. Our Museum Expo has highlighted some of this effort (see pictures below). For younger students, madrichim (teen aides) will be helpful in guiding them in age appropriate tasks in this model of teaching.
Project Based Learning uses a spiral curriculum to make sure that important topics are covered throughout the child's Religious School experience and revisited as they get older. In setting up the curriculum, we look at what a child graduating from our school will have experienced, and what they would be expected to know by the time they finish 7th grade.
Curriculum

KITAH GAN ALEPH (Kindergarten-Grade 1)
Kitah Gan Alef is a fun and engaging environment for young children through many hands-on activities, song and dance. The children learn the concepts and traditions of our holidays. They begin to delve into the classic bible stories and the moral lessons that apply to the stories that can be related to their lives. Students also focus on seeing God's presence through God's creations and understanding the connection between performing acts of loving kindness and being created in God's image (b'tzelem Elohim)



NITZANIM (Buds)
Kitah Bet – Kitah Daled (Grades 2-4)
The project for the coming year will be focused on the Jewish holiday cycle, as the students create a guide for each of the holidays. They will be able to use pictures and video to make the holidays come alive. The final product will be a surprise to us all! In addition to this, the students will learn Hebrew at their appropriate levels.  The 2nd graders focus on learning the Hebrew letters; 3rd graders learn how to read Hebrew, so that by the end of the year they can read prayers; and the 4th graders practice their Hebrew prayers. They will continue to read and discuss Bible stories, and will look at Israel through its celebration of the holidays.



ILANOT (Trees)
Kitah Hey – Kitah Zayin (Grades 5-7)
The oldest students in our Sunday school program will get a chance to act like judges as they look at Jewish ethics through the lens of fictitious court cases. Following their discussions they will see how the Rabbis dealt with similar issues in Jewish legal texts. Separately, the students will look at mitzvot that deal with Social Action, and decide what projects they will do as a class to actualize these mitzvot through acts of Tikkun Olam (Repairing the World). This class will also continue their study of Tanach (Jewish Bible) by focusing on each week's Torah portion.