Inspiring minds while shaping the future…
Learning and asking questions is a major part of Judaism. Here at Temple Etz Chaim, we believe education is the strongest way to connect intellectually, spiritually, and most importantly, with each other.
STEAM Hanukkah
Songs, teams, windows and lights and of course, latkes and sufganiyot, marked our Hanukkah School Celebration this year. Our activities brought STEAM full force into our school. Hanukkah songs at the beginning of the morning set a festive atmosphere. In teams, the students worked cooperatively, designing and building the tallest Hanukkiah with the same set of materials in each group. When completed, each Hanukkiah was measured and photographed and the winning team members given a prize. 
From there, students went to one of two activities: The back length of sliding glass doors became a palette for "stain glass" panels that depicted the Hanukkah story. On the opposite side of the room, children were focused on creating LED Hanukkiot from copper tape, mini-lights and batteries that really lit up.
Finally, we were ready for our Hanukkah treats! Such a fun way to go into the holiday!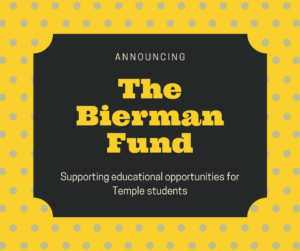 The Bierman Family Religious School and Youth Enhancement Fund, has been created by the Temple's Board, for the assistance of Religious School and Youth Programs. The Fund is a generous gift of long-time Temple members Andrew and Wendy Bierman.
The Fund will be used to assist individual students to attend programs as well as to provide alternative types of educational programming to enhance the learning process for students and parents. Examples of events that students could use this Fund for are NFTY (National Federation of Temple Youth) Institutes or study in Israel. The Fund is designed to help students in the Religious School (K-12), the Temple Youth Group FROGY and other Temple Members under the age of 21. It cannot be used to subsidize Religious School tuition.