Temple Etz Chaim holds their first Kefiyada Museum Expo!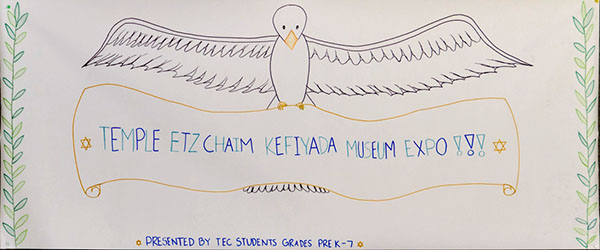 Synagogues made from shoe boxes and foam, family trees made from handprints and leaves, marriage under the Chuppah, Challah made from clay, rolling the dice to walk through Israel, and interviews with Queen Isabella during the Inquisition, filled the hallways of Medway High School. Temple Etz Chaim of Franklin held their first Kefiyada Museum Expo, which displayed their Religious School students' works. Hana Berman is in her second year as the Director of Education at Temple Etz Chaim and implemented the Museum Expo this year to highlight the students' project-based learning. Each class chose different subjects within Judaism and the students decided what projects would best illustrate what they valued within the subject area chosen. Read the full article, written by our own Dawn Doucette-Kaplan, on JewishBoston.com
Kitah Gan: preK and K – Shabbat
The children painted a Shabbat tablecloth to create a beautiful Shabbat table. They displayed the 7 days of creation leading up to Shabbat. They followed this presentation with "Shabbat" dinner accompanied by the prayers over the candles, wine, and challah.
[widgetkit id=24]
Kitah Alef/Bet – The People and Names in My Family
The children made family trees connected to our study of Abraham and Sarah. The leaves were their family members including grandparents. On the trunks were pictures that describe the child by the things they like to do. The student's Hebrew name was on the page since we made connections between their names and their ancestors.
[widgetkit id=25]
Kitah Gimmel – Life Size Israel Board Game
Students read packets about Israel, formed questions for the game, and illustrated game spaces. Students each told an interesting fact that they learned from their research and helped guide players through the game.
[widgetkit id=26]
Kitah Daled/Hey – Designing a Synagogue
The question that provided the engine for our studies was: What is a synagogue and how does it function? Working in teams, the students created their own models of a synagogue based on what they learned about the Tabernacle in the Book of Exodus, a study session with the rabbi at our own TEC sanctuary, lessons about synagogues across the world, nature and prayer, and what different aspects of engagement are involved in the life a synagogue: prayer, learning, and community.
[widgetkit id=27]
Kitah Vav – Jews of Spain and Portugal During the Inquisition, 15th – 17th Centuries
The Inquisition in Spain and later in Portugal, was a time in history, when the Catholic Church leaders tried to impose their beliefs on everyone in their countries. Jews were especially targeted by the Church. The students read the book, Out of Many Waters, that helped connect them to the events.
Each student researched a different topic based on their personal interests and related to this time in history. The students learned about issues of trying to keep kosher as a Converso; and Jewish involvement in mapmaking, the printing press, and as inventors of navigational tools. Other students studied education for girls during this period, games people played, and the animals that would have been found on period farms. Some students used our class novel as a jumping off point for creation of a News program and an online presentation.
[widgetkit id=28]
Kitah Zayin – Jewish Life Cycle Celebrations
1. Groups of students wrote, directed and performed skits about Jewish life cycle events. There was a skit about birth, one about Bar/Bat Mitzvah and one about marriage. The loving connection to family and community was a notable feature in each of the presentations.
2. One group of students created an A-Z book about the Jewish life cycle.
[widgetkit id=29]